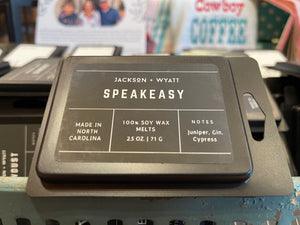 Speakeasy Wax Melt - Part of our Black Label Scent line. Designed for a more masculine decor.
Dimensions
Width: 2 7/8-inch Length: 4 3/16-inch Height:1 inch;
Volume: 2.5oz | 71 grams
Note Profile: Juniper, Gin, Cypress
Why Jackson + Wyatt?
Our wax melts are hand poured in our North Carolina home, surrounded by the pitter patter of little feet. It's important to us that our products burn as clean as possible for the health of our little ones, and our environment. Our products are always made with 100% organic, humanly sourced soy wax. Our scent blends are completely free of phthalates, carcinogens, mutagens, reproductive, organ and acute toxins. The result? Scented products we're proud to stand behind and peace of mind for our customers.